payit, the UAE's fully digital mobile wallet, celebrates two awards provided by MEA Finance Banking Technology Summit & Awards 2021.
On the 28th of May, 2021, payit won two awards during an in-person ceremony attended by payit representatives. payit was awarded Best Neobank Award and Best Innovation in User Experience.
The awards are a testament to the advancements in the technology that drives the platform. The payit platform focuses on creating faster ways to perform mobile money transactions, while simultaneously providing a seamless user experience.

The Best Innovation in User Experience Award went to the payit platform due to its user-friendly mobile app. Apart from being able to pay for products and services, the app's user interface also provides the consumer access to other convenient functions – all from a single screen.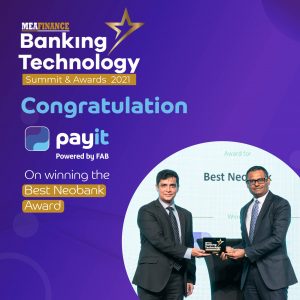 MEA Finance focuses on helping the local population within the UAE gain a better understanding of the institutions and organizations that offer financial services in the country. Each year, MEA Finance awards specific companies that are leading the banking technology industry in the UAE. The official event was held on the 26th of May, 2021, through an in-person ceremony.
MEA Finance reports that the event was "much welcomed" and had a large focus on companies who are able to assist in providing financial services even throughout the Covid-19 pandemic.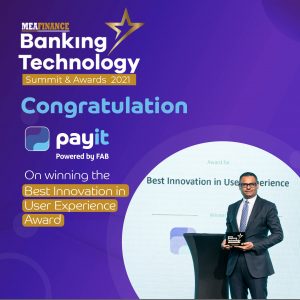 Banking & Finance Awards have been playing an important role in the UAE for decades. These awards help consumers understand the overall trustworthiness of banking institutions. They also incentivize brands to put more effort into perfecting their services, offering consumers adequate support, and ensuring the service is provided at a competitive rate – thus benefiting the consumer in the process.